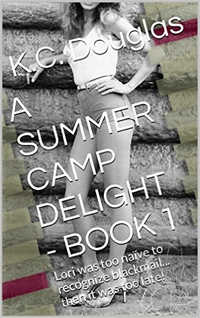 I started reading erotic stories a few years ago and found many of them to be very
unbelievable, as well as written poorly so I wondered if I could do better. I have written
many stories and posted them on a few story sites, which has given me great satisfaction
when readers send me wonderful feedback. After receiving many nice comments from readers,
I decided to give publishing a try and I am hoping to give readers a rewarding experience
by reading one of my books.



I fully immerse myself in each story and hopefully that intimate feeling is portrayed in
each of my books. The enjoyment received from erotic stories can give a person many
minutes and hours of personal enjoyment and hopefully my books do that for readers.



Many of my books are pure erotic fantasy... I think... but then again I won't admit what
parts come from personal experience. Yes, I have had affairs in my life and in my
marriage, but hopefully they have made me stronger and happier. I can't describe the
enjoyment I get from writing and will admit that it has been kept a total secret from my
family and friends. 
Ebook Price
$2.99
A Summer Camp Delight
(K.C. Douglas)
STORY DESCRIPTION
Lori loved volunteering two weeks every summer to be a chaperone and camp worker at the summer camp her two kids attended. During her fourth camp, Lori quickly finds out just how naïve and innocent she is when she meets Sandy and her boyfriend. After she catches the two breaking curfew and reports them to the camp director, the vindictive nineteen year old teenager vows to get even with her sexy chaperone.
No. words: 12215 We do not recommend this book for readers under 18 years of age
Style: General Erotica, Erotica with Romance
Available Formats: Palm MOBI EPUB Sony Reader (LRF) ;MS Word PDF MS Reader Text RTF
Click Here To Read An Excerpt from A Summer Camp Delight
Product type: EBook
Published: 4 / 2016
Click Here For The Whole Series
Keywords - click on word to search for more titles